Andover Municipal News and Notices
Current Notices
---
Attention Andover Residents:
Volunteers needed for the Lake Lenape Dam Assessment Committee.
The purpose of the committee is to help determine how the assessments will be applied to the homeowners of Lake Lenape. No experience necessary. Requirements:
Must not be a resident of Lake Lenape.
Attendance at approximately three meetings of the assessment committee. Dates not yet determined.
If interested, please email the Administrator, Diana Francisco,at dfrancisco@andovertwp.org or call 973 383-4280 ext 223.
---
RecycleCoach Available to Andover Township
A FREE app is available for Andover Township residents that can assist them with recycling and trash information, collection schedules, and more. The Recycle Coach application provides information in a clear and concise manner. Click here for the press release. Click here to go to our RecycleCoach page.
---
Municipal Office Hours

Seasonal Hours
Starting the week of Monday, May 21, the municipal building hours will be Monday, Tuesday, Wednesday: 8AM to 4PM; Thursday: 8AM to 7PM; Friday: 8AM to 12PM.
---
Residents Need to Re-register for Reverse 911
The provider for the Reverse 911 system has changed from CodeRed to Swift911. Previously submitted phone and/or contact information to receive reverse 911s' will not transfer over from vendor to vendor. Therefore it will be necessary to register your cell phones, emails, or even your landline phones if it is Voice over Internet Protocol (VOIP). Even if you have a landline phone through Verizon or Centurylink it is suggested to register.
---
JCPL Update: Ownership Guidelines for Your Home's Electrical System
With storm restoration efforts continuing to progress, Jersey Central Power & Light (JCP&L) reminds customers that they need to be aware that individual outages to their homes may require an electrician and inspection before service can be restored. For information that helps explain what equipment customers may need an electrician to address before restoration can be completed, click here.
---
Noteworthy Notices
posted by issuing department
Administrator
Animal Control
Building/Construction/Zoning
Clerk's Office
Emergency Squad
Finance
Fire
Health
Land Use
Municipal Court
Police
Public Works
Tax Office
Sanitation/Recycling
---
Township Administrator
no notices at this time
---
Animal Control
Dog Licences
Renew your dog's license by January 31st.
Pet Waste Pollutes Our Waters
Click here to download information on what you can do to help protect our water.
---
Building/Construction/Zoning Office
Pool Notice
PLEASE BE ADVISED: Any pool that holds 24 inches of water or greater requires zoning and construction permits, even blow-up pools and temporary pools. Pools require both a building and an electrical permit. The electrical installation to a pool is unique in the electrical code and a whole chapter is dedicated to the wiring. Pools also require a barrier, which is a minimum of 48 inches in height, with access to the pool through a self-closing/self-latching gate. Everything associated with the barrier around a pool is regulated.
Please check with the construction department before purchase of your pool if you have any questions. Any resident with an open pool permit must have final inspections from the town before using the pool. Pools that are in use without final inspection will be subject to violations and penalties.
---
Clerk's Office
Bingo and raffle license information and forms:
http://www.state.nj.us/lps/ca/lgccc/index.htm
---
Emergency Squad
no notices at this time
---
Finance
no notices at this time
---
Fire Department
Blue Reflective Address Signs
The Andover Township Fire Department's Junior Auxiliary sells blue reflective address signs. The signs are 6 x 18 inches and can easily be mounted to your house or mailbox. The signs are $15. Contact Bob Reidmiller at 973-579-2694.
---
Health
Vaccines Available Through County Public Health Nursing
School-Aged Children & Adult Public Health Clinic
WHO: School aged children and adults who live in Sussex County. WHERE: Sussex County Public Health Nursing Office, 201 Wheatsworth Rd, Hardyston, NJ.
HOW: Appointments are required and can be made by calling: (973) 579-0570 ext. 1211
For services available download flier.
---
Land Use
---
Municipal Court
Your Day in Court —informational brochure about your court appearance
---
Police
no notices at this time
---
Public Works
no notices at this time
---
Tax Office
no notices at this time
---
Sanitation/Recycling

2018 Trash and Recycling Information
Brush pickup, leaf pickup, Christmas tree dropoff, SCUMA, calendar: Download calendar PDF | Download information PDF

Blue Diamond suggests that containers be placed at the curb by 6 AM. (Tuesdays for recycling and Wednesdays for trash)
Electronic Waste Days: March 31, May 19, July 21, October 13 2018. The SCUMA Electronic Waste REcycling Program is available to Sussex County residents, businesses, local school districts, municipalities, and county agencies. See flier.
SCUMA 2018 Schedule of Recycling Services Download flier, keep for reference.
Disposable Bags Solutions read article
Recycle Styrofoam read article
Taking Metals from Curbside is Stealing and is a Punishable Violation. It has been brought to our attention that people are picking up metal items left at the curb for pick up and bringing them to salvage yards to sell. This seems innocent enough, especially in these poor economic times. However, it is stealing in a very real way from the municipality. The township is paying for haulers to pick up and properly recycle the items. It impacts the recycling numbers we are able to put on our annual tonnage report to the state, therefore lowering any grant money to which we may be entitled. Residents are asked that if they observe anyone pilfering through items left at the curb for pickup to phone the police. Violators will be prosecuted. (See Chapter 144, Article I, Recycling, 144-4 and 144-10 below.)
Chapter 144. SOLID WASTE
Article I. Recycling
§ 144-4. Recyclables shall become Township property.
From the time of curbside placement during scheduled recycling pickup and/or bulky waste events, if permitted, all designated materials shall be and will become the property of the Township of Andover. It shall be a violation of this article for any person unauthorized by the Township of Andover to collect or pick up or cause to be collected or picked up any such recyclables or materials. Each such collection in violation hereof from one or more properties shall constitute a separate and distinct offense punishable as hereinafter provided.
Chapter 144. SOLID WASTE
Article I. Recycling
§ 144-10. Violations and penalties.

A. Any person, corporation, occupant, or entity that violates or fails to comply with any provision of this article or any of the rules and regulations promulgated hereunder shall, upon conviction thereof, be punishable by a fine not less than $100, nor more than $1,000, based on the penalty schedule listed below.
First violation: minimum penalty $100.
Second violation: minimum penalty $500.
Third and/or subsequent violations: minimum penalty $750.
B. Each day for which a violation of this article occurs shall be considered a separate offense.
C. Any person who is convicted of violating any provision of this article within one year of the date of a previous violation of the same ordinance, and who was fined for the previous violation, may be sentenced by a court to an additional fine as a repeat offender. The additional fine imposed by the court upon a person for a repeated offense shall not be less than the minimum or exceed the maximum fine, but shall be calculated separately from the fine imposed for the violation of the article.
Planet Aid Recycling Options Recycling in the household doesn't only mean cans, bottles, and paper. Many items can be repurposed and spared from the landfill with just a little extra effort.
Click here for recycling options.
Click here for the Planet Aid Blog.
The Apparel Industry's Environmental Impact: PDF | read online

What Can Be Recycled? A list of 200+ items
Recycle plastic bags at supermarkets, not in your household recycling bins. See flier.
Medical Waste Disposal Program Click here for flier.
See How Sussex County is Tackling Foam Recycling
SCMUA Free Paper Shredding - Third Friday of the Month
SCMUA's Guide to Proper Battery Management click here for flier
SCMUA's Recycling - Accepted MRP (mixed rigid plastics) click here for brochure
NJ Waste-Wise Bulletin Click here for the flier.
Recycling NJ A website for NJ residents to find ways to recycle within their local area. recyclingnj.com
Binder Recycling Click here to find out how to recycle your old binder (and get $2!)
E-Waste Management Click here for the SCUMA e-waste bulletin
E-Waste Summary Click here for the October 2016 e-waste summary
Here's a great concept of a Gift Exchange: http://resource-recycling.com/node/3301
A wealth of environmental information; user friendly and even has an App for smart phones: http://earth911.com/
How to donate a mattress as well as mattress recycling and more. Check it out here: https://www.tuck.com/mattress-disposal/
The Reuse Marketplace (http://www.reusemarketplace.org) is a free regional network to find, sell, trade, or give away reusable and surplus items that would otherwise be disposed as trash. Businesses, institutions, governments, and non-profit organizations in the states of Connecticut, Delaware, Massachusetts, New Jersey, New York, Rhode Island, and Vermont can become members by creating free accounts and posting listings for available items. Members may also post detailed wanted listings, specifying the type(s) of items they need. While anyone can browse and access the posted items, only members can post items to offer. Actual exchange transactions are carried out directly between interested parties.
Fliers: Click to see larger.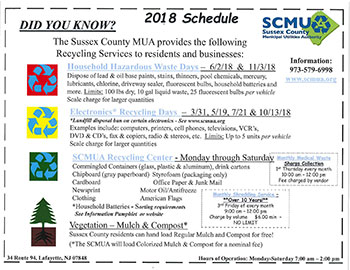 ---