Andover Municipal News and Notices
Legal Notice
REVISED TOWNSHIP COMMITTEE MEETING FORMAT FOR TELEPHONIC MEETING ON THURSDAY, June 4, 2020.
PLEASE TAKE NOTICE, that in accordance with the Open Public Meetings Act, N.J.S.A. 10:4-6 et seq., and more specifically N.J.S.A. 10:4-8(b), which authorizes the use of communications equipment to hold public meetings, and in consideration of Executive Order 107 issued by Governor Phil Murphy and guidance provided by the New Jersey Department of Community Affairs, Division of Local Government Services, the Township of Andover hereby notifies the public that in order to protect the health, safety and welfare of its citizens, while ensuring the continuity and continued operations of government, the Township will hold its regularly scheduled public meeting by way of a dial-in conference call on Thursday, June 4, 2020, beginning at 6:30 p.m. Please note that the Township Committee will immediately hold a closed, executive session via a separate telephone conference number to discuss time-sensitive legal matters as authorized by N.J.S.A. 10:4-12. At the beginning of the closed session the Township Administrator will place the dial-in number below on hold. At 7:30 p.m., the Township Administrator will open up the line for the public session.
During the public session, members of the public will be muted until the public comment portion of the meeting is opened, and then unmuted to allow for public comment. Please note that while muted, the public will still be able to hear the governing body conduct business. The public portion will be opened following the conclusion of formal business. Once the public portion is concluded, the public will again be muted for the duration of the meeting.
Any member of the public who wishes to participate in the meeting may do so by calling the following number:
Dial-in number: (978) 990-5000
Access Code: 448914#
Members of the public who are unable to utilize the access method due to a disability may submit written comments or questions by contacting the Township Administrator at dfrancisco@andovertwp.org prior to the meeting, up until June 4, 2020 at 3:00 p.m. The Township will make a reasonable effort to read such comments or questions, which must include the individual's name and address, into the record during the public portion of the meeting.
---
LAND USE BOARD REMOTE MEETING TUESDAY JUNE 2
This meeting will be held remotely due to the Covid-19 Pandemic. Please join the meeting from your computer, tablet or smartphone.
https://global.gotomeeting.com/join/111458821
You can also dial in using your phone. United States: +1 (408) 650-3123 Access Code: 111-458-821
New to GoToMeeting? Get the app now and be ready when your first meeting starts: https://global.gotomeeting.com/install/111458821
---
Current Notices
Lowe's Recyclables Collection Centers
Recyclables collection centers can now be found in Lowe's stores. This is a convienent and free way for the public to recycle batteries, cell phones, compact fluorescent lights (CFLs) and plastic shopping bags. For more information click here for flyer.
---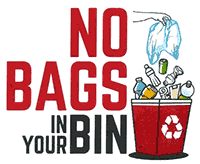 Don't Put Plastic Bags in Your Curbside Recycling Bin
Plastic bags in your curbside recycling bin actually hinder the recycling process. It's not that used plastic bags and wraps can't be recycled into new materials – they simply require a different collection system. So please don't put plastic bags and wraps in your curbside bin, bring them to the grocery store; they accept clean and dry plastic bags and film. Thank you. See flier.
---
Recycling Notice from SCMUA—Guidelines for Recyclable Materials
Download the SCMUA Guidelines for Recyclable Materials
NJDEP's Recycling Contamination Press Release
SCMUA website
Due to market restrictions banning unacceptable materials in the recycling stream, the Sussex County Municipal Utilities Authority (SCMUA) is hereby providing notice and clarification to all Commercial, Private, and Local Government Haulers that deliver recyclable material to the Solid Waste/Recycling Facility. Effective immediately, the SCMUA will require all haulers that bring recyclable materials to the SCMUA Bulky Waste/Recycling Building to weigh in and receive a tag at the Scalehouse for each load. In addition, in an effort to capture only acceptable materials, any recyclables delivered to the SCMUA Facility cannot contain any of the following contaminates:
Plastic bags/film/packaging material
Construction debris (wood/metal/glass)
Food waste
Hazardous materials
Haulers with contaminated material can and will be assessed re-loading and disposal charges, in addition to potential enforcement penalties, in accordance with the 2019 Rate Schedule. The SCMUA has dedicated operations staff and resources, to maintain clean recycling streams at the Solid Waste/Recycling Facility. We ask for the cooperation of all those who utilize the facility, to ensure that the above requirements are adhered to. Thank you for your continued efforts in promoting recycling in Sussex County. Please contact SCMUA's Reenee Casapulla at 973-579-6998 X107 or
rcasapulla@scmua.org
for any comments or questions regarding these recycling guidelines.
---
RecycleCoach Available to Andover Township
A FREE app is available for Andover Township residents that can assist them with recycling and trash information, collection schedules, and more. The Recycle Coach application provides information in a clear and concise manner. Click here for the press release. Click here to go to our RecycleCoach page.
---
JCPL Update: Ownership Guidelines for Your Home's Electrical System
With storm restoration efforts continuing to progress, Jersey Central Power & Light (JCP&L) reminds customers that they need to be aware that individual outages to their homes may require an electrician and inspection before service can be restored. For information that helps explain what equipment customers may need an electrician to address before restoration can be completed, click here.
---
Noteworthy Notices
posted by issuing department
Administrator
Animal Control
Building/Construction/Zoning
Clerk's Office
Emergency Squad
Finance
Fire
Health
Land Use
Municipal Court
Police
Public Works
Tax Office
Sanitation/Recycling
---
Township Administrator
The Andover Township Special Assessment Commissioners held Special Assessment public hearings, relating to the Lake Lenape Dam Rehabilitation Improvement to determine a just and equitable assessment for all properties located in Lake Lenape in Andover Township affected by said dam rehabilitation improvement. Property owners in Lake Lenape were mailed letters setting forth the proposed special assessment amount for their respective properties. The hearings were held on July 11 and 25, and August 1, 2019. Ordinance 2019-11 was introduced and passed at the August 1 meeting. A public hearing was held on August 15, at which time all persons interested both for and against said ordinance were given an opportunity to be heard concerning the ordinance. Diana Francisco, CMC, Municipal Clerk
Lake Lenape Dam Paid Loan #1 and #2
---
Animal Control
Dog Licences
Dog licenses were due by January 31st.
Download 2020 renewal form
Pet Waste Pollutes Our Waters
Click here to download information on what you can do to help protect our water.
---
Building/Construction/Zoning Office
Pool Notice
PLEASE BE ADVISED: Any pool that holds 24 inches of water or greater requires zoning and construction permits, even blow-up pools and temporary pools. Pools require both a building and an electrical permit. The electrical installation to a pool is unique in the electrical code and a whole chapter is dedicated to the wiring. Pools also require a barrier, which is a minimum of 48 inches in height, with access to the pool through a self-closing/self-latching gate. Everything associated with the barrier around a pool is regulated.
Please check with the construction department before purchase of your pool if you have any questions. Any resident with an open pool permit must have final inspections from the town before using the pool. Pools that are in use without final inspection will be subject to violations and penalties.
---
Clerk's Office
Bingo and raffle license information and forms:
http://www.state.nj.us/lps/ca/lgccc/index.htm
---
Emergency Squad
no notices at this time
---
Finance
no notices at this time
---
Fire Department
Blue Reflective Address Signs
The Andover Township Fire Department's Junior Auxiliary sells blue reflective address signs. The signs are 6 x 18 inches and can easily be mounted to your house or mailbox. The signs are $15. Contact Bob Reidmiller at 973-579-2694.
---
Health
Vaccines Available Through County Public Health Nursing
School-Aged Children & Adult Public Health Clinic
WHO: School aged children and adults who live in Sussex County. WHERE: Sussex County Public Health Nursing Office, 201 Wheatsworth Rd, Hardyston, NJ.
HOW: Appointments are required and can be made by calling: (973) 579-0570 ext. 1211
For services available download flier.
---
Land Use
---
Municipal Court
Court Sessions have been CANCELED until further notice. Please refer to the Municipal Court page for further information.
---
Police
no notices at this time
---
Public Works
no notices at this time
---
Tax Office
no notices at this time
---
Sanitation/Recycling

2020 Trash and Recycling Information
Schedule | Information
Blue Diamond suggests that containers be placed at the curb by 6 AM. (Tuesdays for recycling and Wednesdays for trash)
SCUMA 2020 Schedule of Recycling Services download
Notices from SCMUA
Download the SCMUA Guidelines for Recyclable Materials
New Separation Requirements for Propane Cylinders and Small Engine Gas Tanks
July 2019 Letter to Recyclers
Visit the SCMUA website
NJDEP's Recycle Right NJ Recycling Contamination Social Media Campaign 2020 Holiday Schedule
Disposable Bags Solutions read article
Recycle Styrofoam read article
Lowe's Recyclables Collection Centers
Recyclables collection centers are available in Lowe's stores to recycle batteries, cell phones, compact fluorescent lights (CFLs) and plastic shopping bags. Click here for flyer.
FREE RECYCLING PROGRAMS - TerraCycle recently launched several new recycling programs including the Tide Eco-Box Recycling Program and eos Recycling Program. Keep an eye out for new recycling programs launching each month for more ways to reduce your environmental impact.
Planet Aid Recycling Options Recycling in the household doesn't only mean cans, bottles, and paper. Many items can be repurposed and spared from the landfill with just a little extra effort.
Click here for recycling options.
Click here for the Planet Aid Blog.
The Apparel Industry's Environmental Impact: PDF | read online

What Can Be Recycled? A list of 200+ items
Backyard Composting Resources
Learn the basics of composting at home (yard waste and food waste)
Home Composting (Rutgers)
Composting Is Way Easier Than You Think (NRDC)
Composting At Home (EPA)
See How Sussex County is Tackling Foam Recycling
SCMUA's Guide to Proper Battery Management click here for flier
SCMUA's Recycling - Accepted MRP (mixed rigid plastics) click here for brochure
Recycling NJ A website for NJ residents to find ways to recycle within their local area. recyclingnj.com
A wealth of environmental information; user friendly and even has an App for smart phones: http://earth911.com/
How to donate a mattress as well as mattress recycling and more. Check it out here: https://www.tuck.com/mattress-disposal/
---