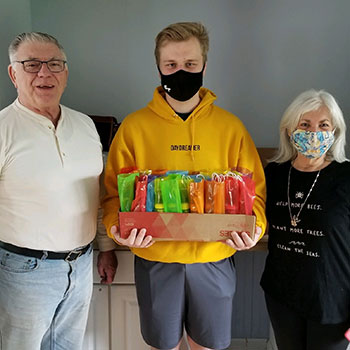 Pictured from left: Ed Doughtery, President Greater Andover Senior Citizens Group, Matthew Danielson, Janis McGovern, Andover Township Mayor
Special Delivery to Senior Citizens of Greater Andover
Andover Township Resident and Sussex County Technical School Student Matthew Danielson recently procured donations to deliver to the Senior Citizens of Greater Andover at their first in-person meeting in over a year. Donations included a gift bag containing hand sanitizer and face masks. A special note of thanks and recognition to the Ali Family, who donated the hand sanitizer upon hearing of Matthew's plans to assist the Senior Citizens group.
Matthew completed this project as part of his ongoing community service requirement, which service also includes being a member of the Andover Township Volunteer Fire Department. Thank you, Matthew, for being an integral part of our community, and for being an outstanding role model for our younger generation!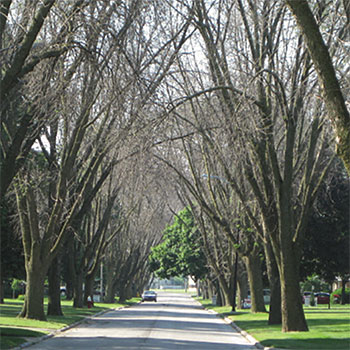 Protect Your Ash Trees
We are experiencing a widespread problem with our Ash trees. If left untreated, 99% of trees that are infested with the Emerald Ash Borer will die. For information on how to protect and treat our trees, please see the NJ Department of Agriculture website nj.gov/agriculture and the booklet Protecting Ash Trees from Emerald Ash Borer.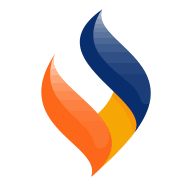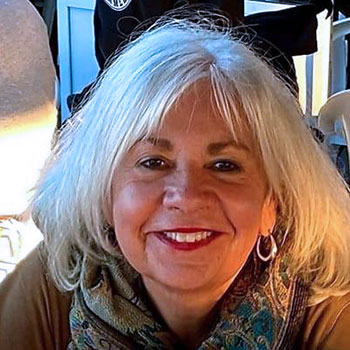 Virtual Reorganization Meeting
Although not as ceremonious as traditional, the Annual Reorganization Meeting of the Andover Township Committee was held virtually on Thursday, January 7th.
Congratulations to our newly elected Mayor, Janis McGovern! Mayor McGovern is no stranger to local government, having served on the Township Committee for the past 8 years. Mayor McGovern has also served and continues to serve on the Township Land Use Board, Environmental Commission and Sustainable Andover, in addition to being an active liaison to our Senior Citizen Group and Recreation Committee. We applaud her efforts in putting community first, and wish her the very best in 2021!
Also appointed was Deputy Mayor Michael Lensak, and our newly elected Committeemen, Thomas D. Walsh, Jr. and John Carafello. Ellsworth E. Bensley, Jr., continues his 3-year term as Committeeman.
Although times have been challenging, our Mayor and Township Committee look forward to a better, more hopeful year, and are committed to serving the residents and business owners of Andover Township.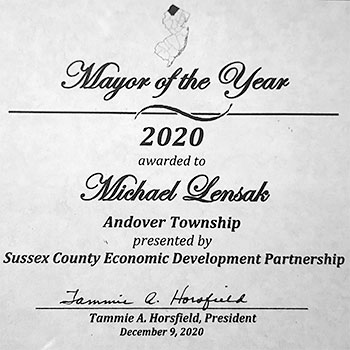 Mayor of the Year
Congratulations to Mayor Lensak, and to all of the Mayors representing Sussex County's 24 municipalities on being honored Mayor of the Year for 2020. The Sussex County Economic Development Partnership dediced to recognize all 24 Mayors for their efforts in what has been an unprecedented, difficult and trying time for their respective municipalites. Andover Township was no exception, and Mayor Lensak led with strength, compassion and conviction, fighting fiercely for local businesses to stay alive, while handling the day to day business as a member of the Township Committee. Special thanks to Edison Avecillas Enterprises and Perona Farms for sponsoring this year's event in Mayor Lensak's honor. Even in the most difficult of circumstances, you found a way to support the Township, and it is greatly appreciated.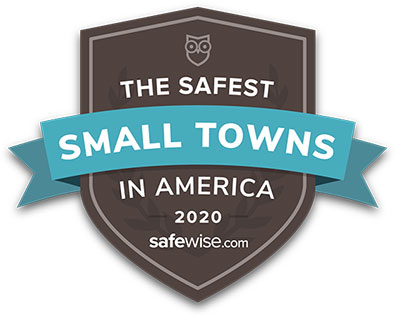 Andover Township Named One of Safest Small Towns in America
SafeWise has recently released its annual Safest Small Towns in America report, and Andover Township ranked #69 this year! You can read the full 2020 report here: safewise.com/safest-towns-america/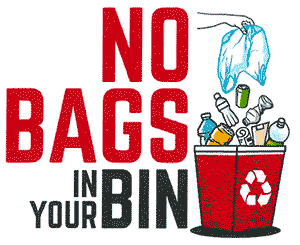 Don't Put Plastic Bags in Your Curbside Recycling Bin
Plastic bags and wraps require a different collection system.
Please don't include them with your curbside pickup; take them to a grocery store that accepts clean and dry plastic bags.
Thank you. See flier.